Do you want to move away from the traditional weddings that we have been accustomed to? Cancun, Mexico is a great destination for those whose idea of a dream wedding is tropical beaches, white sand, and perhaps a drink in hand.
Benefits of Getting Married in Cancun
Tying the knot in Cancun Mexico is an experience of a lifetime and one that you don't get every day. Here are some of the perks to having a destination wedding in Cancun and things you can do while you are there.
1. Beautiful Beaches – Cancun offers miles of beautiful beaches, soft sand, and turquoise waters. Not only is the place perfect for weddings, but also honeymoons.
2. Breathtaking scenery – While exchanging vows in Cancun, you won't have to worry about floral arrangements and the ceremony's décor. Your natural wedding will be unforgettable beautiful as you will experience crystal waters, shimmering sand, and swaying palms.
3. Perfect weather – If you choose your destination wedding in Cancun during the right season, you will experience sunny days on end. The place brags of perfect all-year-round tropical climate and temperatures. This means you can have your dream wedding by the beach even in winter.
4. Delicious Cuisine – Cancun is home to some of the best chefs in the world. They will blow you away with whatever you crave for. The food will be a remarkable experience for you and your guests.
5. World-class resorts – you won't find lackluster hotel rooms in Cancun. The resorts are elegantly beautiful and polished. To top it up, they are all-inclusive and perfect for transitioning from wedding to honeymoon.
6. Affordable Rates – Destination weddings in Cancun are big on romance, fun, and beauty. Surprisingly, you won't have to worry much about leaving a dent in your pocket. Traditional wedding prices are on the rise. However, Cancun offers a great alternative as many resorts have complimentary and low-budget wedding packages. In addition, you wont have to travel to get to the honeymoon since you can stay in Cancun!
The Cost of a Wedding in Cancun
Cancun has for years been the most beloved wedding destination in Mexico. All this is for a reason. It boasts of the best of Mexico's nightlife and the resorts also offer exceptional services all at a modest price.
Some people shy away from destination weddings, citing budgetary reasons as the main cause. However, they are cheaper in comparison to a traditional wedding. For example, you might spend $5-7k for a destination wedding, yet the average cost of a traditional wedding in the USA goes for $35,329. That is a lot of money saved. What other reason would you give for not having a memorable wedding?
When it comes to wedding packages, all requirements are included. The essentials include; symbolic ceremony on the beach, a private cocktail before the ceremony, a private buffet dinner on the beach, a reception area, wine for the toast, wedding cake, open bar, and DJ. Generally, most all-inclusive packages offer that but they may vary from resort to resort.
It is important to note that the accommodation for guests is not included.
The difference between a $5,000 wedding and another for $10,000 is details such as ultra-luxurious suite accommodation, live music for the ceremony, premium drinks and romantic candlelit dinner for a night of your choice, among others. Basically what you get depends on the resort of your choice and what you can negotiate.
Let us look at the average price breakdown for a wedding in Cancun
$6000 average for an all-inclusive wedding package (includes accommodation for 5-7 nights)
$250-$450 per person for flights from the USA
$100 for transport to and from the airport
$50 gratuities
$500-$3000 for wedding extras. These can rise quickly depending on the changes you make
Legal vs. Symbolic wedding in Cancun
When it comes to choosing between a legal and symbolic wedding in a destination, you need to choose what best fits for you. Not all destinations are equal. But before that, what is the difference between a symbolic and a legal wedding?
A legal wedding ceremony is when you follow the laws and legislations of that particular destination. You receive your wedding certificate from the area authorities. This type of wedding requires more as it involves more paperwork, a judge, extra fees and frequent blood tests. When you opt for this type of wedding and return home, you will have to present the legal paperwork to the local licensing bureau so that your marriage license can be filed
On the other hand, a symbolic wedding is not recognized legally. This type of wedding makes up 80% of destination weddings. The groom and bride visit their local courthouse or clergy and file the license before traveling. This makes them legally wed before they jet off. This makes an easy and smooth destination wedding.
The best part of all is that guests never get to know the difference. All weddings are the same, apart from the license.
A legal ceremony in Cancun must be performed by the judge. Other than that, an STD test is required. For a symbolic wedding, there is no legal bearing. It is carried out by a non-denominational minister, wedding coordinator, relative or family friend. The bride and groom then receive a symbolic marriage certificate but without a legal license.
When to Get Married in Cancun
When scheduling a wedding, more so a beach wedding, you ought to try as much as you can to steer clear of challenges like bad weather, complicated booking, and low vacancy. You could also be prioritizing aspects like beautiful venue, suitable hotel packages, and flights. Above all, you want your guests to be comfortable.
The best period to plan your wedding in Cancun is from the last days of October, going on to the first few days of December. This is mainly because of two reasons. Low season and perfect weather.
November has been for a long time regarded as the best month for carrying out a destination wedding in Cancun. The natural lighting during this period is picture-perfect. However, you need to consider that the Revolution Day Memorial in Mexico is celebrated during the third weekend of November. To avoid any inconveniences, you have to make any bookings for this particular week at least one year before.
These other factors will help you choose a great time to get married;
Prices go exorbitantly high in December
The months of January and February are high season. Wedding dates may not be requested so much because December is close. You might, however, get fair prices
Easter also has conducive weather but chances are high that it could be crowded. This is among the most religious periods in Mexico. Churches do not solemnize marriages throughout this period.
"Cinco de Mayo" (fifth of May) is also a good option, but it is also a high season
July to September is the rainy season and June to November is hurricane season. In this period, you expect high humidity and hot temperatures. One thing to keep in mind is hurricanes in June and November are rare which is why November is still a highly recommended time to go.
Where to Get Married in Cancun
There are so many different types of wedding locations in Cancun. It may get overwhelming when choosing a location. The following are the best resorts for a Cancun destination wedding
Paradisus Cancun Resort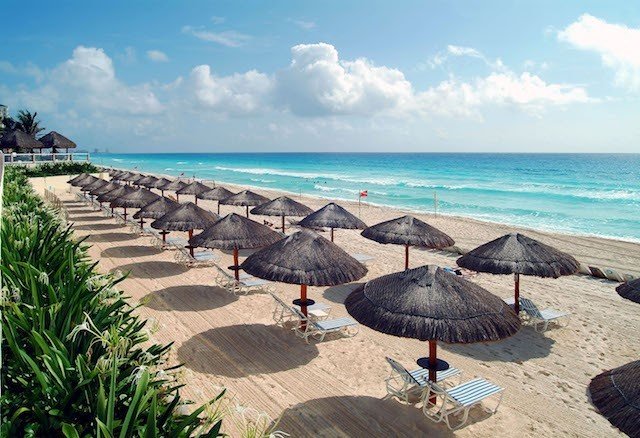 In this gorgeous wedding resort, couples will be able to experience the tranquility of the natural environment. The resort accommodates both small and large weddings, based on the couple's needs. The resort's goal is to allow couples to focus on each other rather than the details which may be stressful and time-consuming. Therefore, their events are tailor-made such that couples avail customized services according to their desires. Their wedding team does coordination. Ceremonies can be held at their outdoor gazebo. Behind is a sandy beach and the waters of the Atlantic Ocean.
Le Blanc Spa Resort Cancun
This resort is known widely for elegance and its all-inclusive amenities. It is an adult-only resort and spa, whose white sand beaches and Caribbean waters are its main attraction. Its amenities will surely make your wedding unforgetable. You and your guests have spa treatments at your disposal, as well as 3 outdoor pools. You will also have access to one of the other 6 Palace Resorts that will grant you access to the beaches and other facilities.
Excellence Riviera Cancun
This restaurant venue provides the best of both worlds for couples. You will experience a private ceremony at this venue, while still enjoying the convenience of being close to the Cancun and Playa del Carmen areas. This venue assures both hospitality and luxury. The exterior of this venue is built in an elegant Mediterranean style. The best thing about this venue is that it is right off the Riviera Maya Coast. This offers the wedding a breathtaking background. Couples can choose to host the ceremony on the beach, stone gazebo or pier.
Hyatt Ziva Cancun
This resort is located on a scenic peninsula and surrounded by the ocean on three sides. It is designed in a village-like style. The venue connects wedding guests to the natural beauty of the Cancun's coast. The venue has a playground within it where there floating swim-up suites that overlook the ocean. If couples opt for an elevated level of luxury, the resort has the Turquoize Adult Tower. All-inclusive guests are granted adult-only access. These suites have oversized balconies and private hot tubs.
Hyatt Zilara Cancun
This an adult-only resort that is all-inclusive for guests over the age of 18. It is located on the widest stretch of the beach where most of Cancun's hotels are located. Guests experience traditional Mexican warmth in a casual yet intimate setting. Its spacious suites have a great view of the Caribbean. There's an array of amenities that include culinary options at six gourmet restaurants, treatment at The Spa (the only spa in Cancun overlooking the ocean), beach and pool butler services, and wines and spirits tasting.
The Grand Moon Palace
This resort offers a destination wedding for those who want an experience of a cruise, yet on land. This property consists of more than 1,000 guest rooms, 14 gourmet restaurants, a 27-hole golf course, a nightclub, spa, Water Park and adult-only section, among many others. Only one wedding a day is hosted making their on-site planners very precise in paying attention to detail and ensuring your experience is nothing short of magical. You may choose this resort whether you want a Catholic chapel, indoor ballroom, beachside terrace or seaside gazebo.
The Ritz-Carlton Cancun
This five-star brand offers decorated grand ballrooms, a whimsical courtyard, and a white sandy beach. This is a great option for couples who envision a wedding with blue Caribbean water behind them. There is an onsite wedding team that helps couples in the planning of their dream wedding. What sets this resort apart from others is their customizable menus, extensive flower selection, creative wedding cakes, and comprehensive services.
The Royalton Riviera
This resort provides a wedding package for 20 guests that can be upgraded to a civil ceremony with additional fees. They offer refreshments and fruit platters for the groom and bride on the wedding day, just before the ceremony. Couples are allocated a personal wedding planner and an onsite coordinator.
Dreams Riviera Cancun Resort and Spa
This resort is designed to reflect the charm of the Mexican Caribbean. It is surrounded by pools, tropical gardens, and the beach. Guests are accommodated in the 486 luxurious premium rooms, which are spacious and each having at least one Jacuzzi. The ground floor room offers a pool, full marble bathroom, daily refreshed mini-bar, and many other amenities. There are also nine gourmet restaurants without any reservations.