Planning on gifting your groom-to-be a luxury watch on your wedding day? Awesome idea! Now the big question is, what kind of watch? Here are five of our favorites that we think every guy should own:
1. The Athletic Watch:
You can't go wrong with something athletic, durable and potentially water resistant for an active man. A watch with a sports band, like this Hamilton Ventura, will be versatile and comfortable when he's on the move, and it will stand up well in harsh conditions.
Some other brands to consider for the perfect athletic watch: Corum, Longines and Tag Heuer
2. The Power Watch: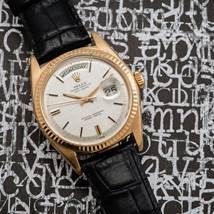 Whether it's for a fancy event or the boardroom, there will be times in your guy's life when he needs a watch that stands out in a powerful way. Help him make a bold statement with an impressive, sleek design like this vintage Rolex. Some other brands to consider for the perfect power watch: Cartier and Jaeger LeCoultre
3. The Everyday Watch: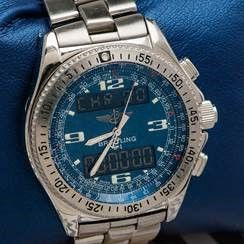 A high-quality, good-looking watch is the best way for him to put the finishing touch on his everyday style. You'll want to choose a watch that can hold up against daily use over time, with a practical color palette and a design that will complement anything he chooses to wear. A watch like the Brietling pictured above is the perfect balance of style and functionality.
Some other brands to consider for the perfect everyday watch: IWC and Ebel
4. The Fan Watch:
Does your guy have a favorite sports team? A watch featuring their colors will solidify his super-fan status. This blue and orange Ebel, for instance, would be perfect for a Broncos' fan. Way better than the old jersey he always wears, right?
Some other brands to consider for the perfect sports fan watch: Certina, Omega and Doxa
5. The Just-for-Fun Watch:
If he already has the bases covered in his watch collection, or if you want to start him off with something unique, look at watches with special features, often referred to as complications. For instance, this Jaeger LeCoultre Navy SEALS watch is made for professional diving and is water resistant up to 300 meters!
Some other brands to consider for watches with special functions: Baume et Mercier, Tag Heuer and Patek Philippe
About H. Carter Jewelers:
H. Carter buys all kinds of fabulous bridal and fashion jewelry from a variety of sources, including estates, closeouts, liquidations and manufacturers' overruns, considerably below market value. We then resell it at incredible, below-wholesale prices that are a fraction of what you would pay anywhere else! With our great selection and jewelry rental service, the perfect jewelry for any occasion is always within reach.
Learn more about H. Carter Jewelers at http://www.hcarterjewelers.com, on Facebook , Twitter, or on their Wedding Sites and Services page .