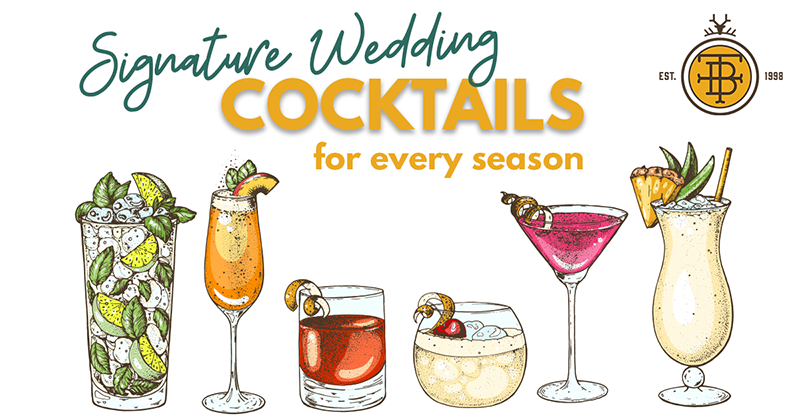 No matter where your nuptials are happening - indoors or outdoors, on a mountainside or in an elegant reception hall - you'll want to keep your guests refreshed with a signature cocktail that perfectly compliments the atmosphere, and also tastes amazing. Your signature cocktail(s) can set the tone of your wedding just as much as the location, music, decor and food.
Our friends at Total Beverage have put together a list of some delicious cocktail recipes to go with every type of wedding, whether your goal is simple and traditional, rustic or glitz-and-glam.
Cheers!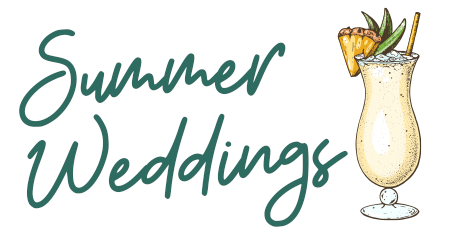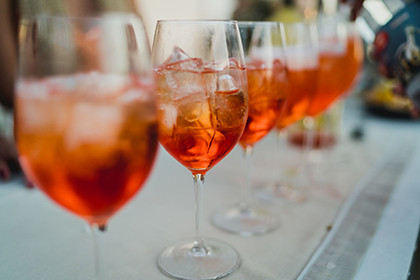 Classic Aperol Spritz
You can't go wrong with this refreshing, bubbly cocktail for a summer wedding. Equal parts bitter and sweet, the popular cocktail tastes like an Italian summer with only four ingredients.
1.5 oz Aperol
3 oz Prosecco
.75 oz Club soda
Orange slide for garnish



Raspberry Mojito
This winning cocktail beats the heat of summer with a combination of rum, refreshing mint and raspberry for a deliciously sweet taste and an eye-pleasing presentation.
5 Raspberries
5 Mint leaves
.5 oz Simple syrup
.5 oz Lime juice
1 oz White rum
1 oz Raspberry rum
2 oz Club soda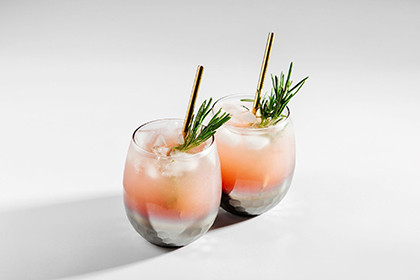 Rosemary Greyhound
Sweet yet savory, this elegant cocktail is pretty in pink thanks to a bit of citrusy grapefruit. Bonus: there are only four ingredients.
2 oz Vodka
.5 oz Rosemary simple syrup
4 oz Grapefruit juice
Rosemary sprigs for garnish



Tom Collins
This light and refreshing classic cocktail is simple, easy to make and is sure to cool off your guests on a hot summer day.
1.5 oz Vodka
1 oz Lemon juice
.5 oz Simple syrup
Splash club soda
Orange slice to garnish
Maraschino cherry to garnish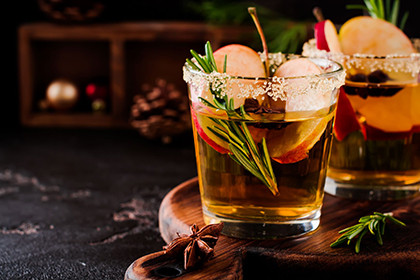 Apples & Bourbon
Rich, fall flavored and comforting, this cozy cocktail is guarantee to impress your guests.
1.75 parts Makers Mark Bourbon
.5 part Aperol
.5 part Lemon juice
.5 part Thyme honey
1 dash Maple bitters
Thyme sprig and apple slice to garnish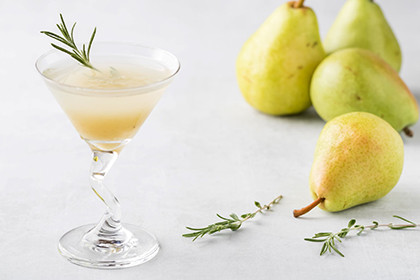 Pear Collins
This tasty fall cocktail has simple ingredients, is light and refreshing and brings out the flavors of fall.
2 oz Gin or Vodka
2 oz Pear puree
Splash Club soda
Thyme to garnish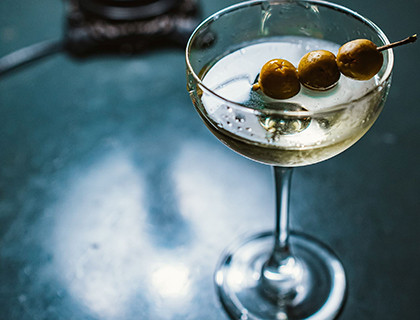 Classic Dirty Martini
Classic and elegant, this savory cocktail is a go-to sipper for a momentous occasion.
2.5 oz Vodka or Gin
.5 oz Dry vermouth
.5 oz Olive brine
2 Green olives to garnish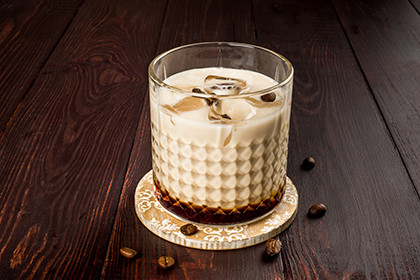 Pumpkin White Russian
Nothing says Fall like pumpkin-flavored everything. This decadent cocktail is the perfect after-dinner drink and is sure to make a big, bold impression on your big day.
2.5 oz Pumpkin flavored vodka
1 oz Kahlua
Splash Heavy cream
Pumpkin pie spice to garnish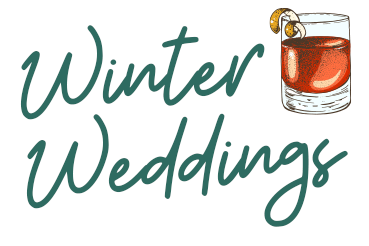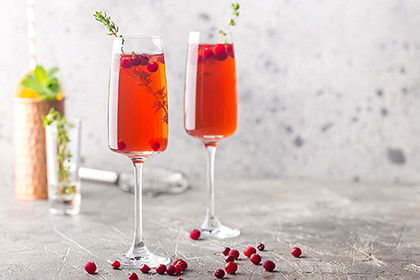 Cranberry Champagne Punch
Raise your glass and toast with this simple, elegant champagne cocktail, a perfect compliment to your winter wedding.
2 bottles Champagne
15 oz Cranberry juice
12 oz Sweetened lime juice
Fresh cranberries
2 Limes
Fresh rosemary sprigs to garnish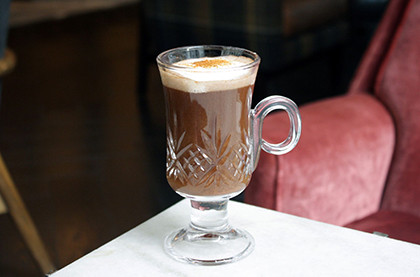 Mexican Hot Chocolate
Warm up your guests with this adult-version of Mexican Hot Chocolate. Yum.
1 oz Tequila
1 cup Milk
1 tbsp Granulated sugar
Pinch Cinnamon
Pinch Salt
Pinch Cayenne pepper
Marshmallows or Whip Cream to garnish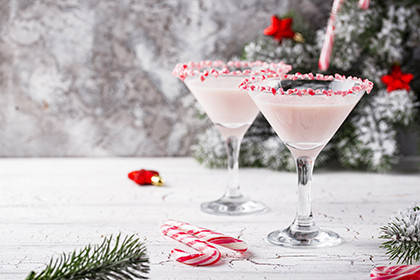 Holiday Peppermint Cocktail
Raise your glass and toast with this simple, elegant champagne cocktail, a perfect compliment to your winter wedding.
2 oz Candy cane vodka
2 oz Cream de cacao
1 oz Vanilla simple syrup
.5 oz heavy cream
1 Candy cane to garnish
Sparkling sugar rim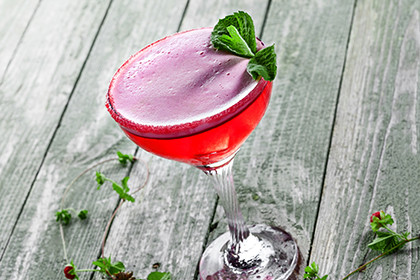 Raspberry Martini
Classy, tasty and beautiful, this wintery cocktail is refreshing yet comforting.
1.5 oz Raspberry vodka
1 part Lemon juice
1 part Triple sec
6 Fresh raspberries
Mint sprig to garnish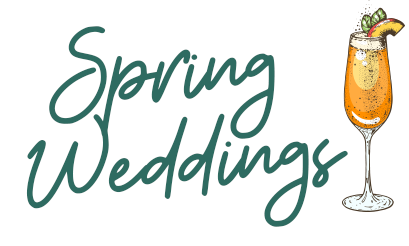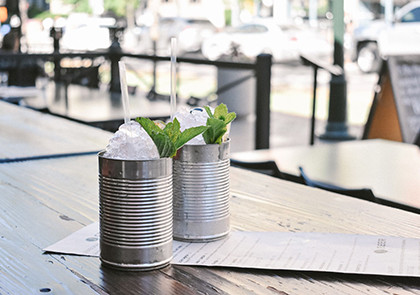 Mint Julep
Classic, elegant and tasteful, this is the perfect signature cocktail for a rustic wedding.
2 oz Bourbon
1.5 tsp Powdered sugar
1 oz Fresh mint leaves
Water
Twist of orange to garnish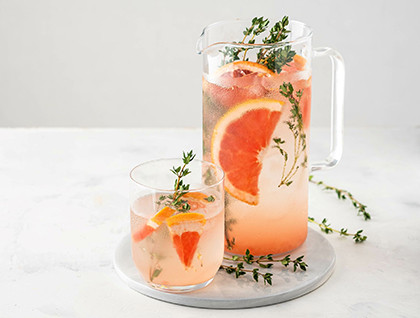 Grapefruit, Thyme & Elderflower Spritz
This spritz is citrusy, light and refreshing and has an elegant, delicate presentation.
1.5 oz Vodka
1 Grapefruit
1 tsp Elderflower cordial
Splash Club soda
Thyme to garnish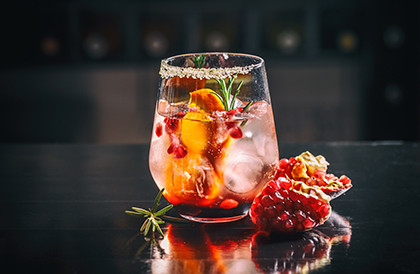 Pomegranate-Orange Fizz
This bubbly libation features pomegranate, orange and Prosecco and is both refreshing and easy on the eyes.
2 oz Pomegranate juice
1 oz Orange liqueur
4 oz Prosecco
Pomegranate seeds
Orange slices to garnish
Thyme to garnish
Sugar rim


French 47
Light and effervescent, this signature cocktail is a sweet sipper and super classy.
2 oz London dry gin
1 tsp Superfine sugar
.5 oz Lemon juice
5 oz Brut champagne
Lemon twist to garnish
Many thanks to our friends at Total Beverage for this blog! For more information, please visit them here.